Is your child interested in the piano, but you are unsure if it is the right fit?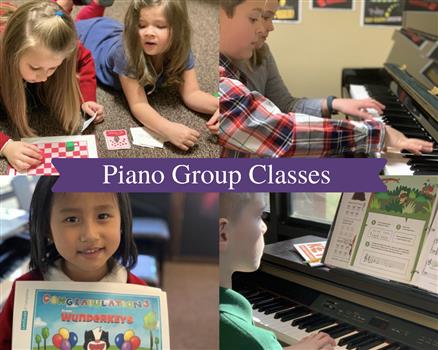 Sign-up for our one year program or our 7 week summer program that introduces students to the piano! Students who graduate from the program may continue on with a private teacher if they wish!
Our One Year Program is for ages 7-11, but for our summer program, we have two class age groups available for 6-8 years old and those 9-12 years old. Click the link below to register:
https://crownmusicconservatory.mymusicstaff.com/Piano-Group-Class-Registration
Summer Group Class ~ Lessons and Tuition
This class offers 7 lessons during the summer months of June and July. Classes will be held on Tuesdays at 10:00 am and 11:00 am. The cost for the class is $230 which will include the 7 weeks of lessons, lesson materials, as well as a small portable keyboard that they will bring each week to class. Payment is due on June 1 and is not refunded for missed class times.
One Year Program ~ Lessons and Tuition
Students are given many exciting opportunities throughout the year. This class offers 10 lessons per semester as well as a premier club each month. Students will have the opportunity to be involved in recitals and music camp as well! This class meets on Mondays from 3:30 pm to 4:15 pm. On the weeks of the Premier Club, they will meet from 3:15 pm to 4:00 pm.
| | |
| --- | --- |
| Monday 3:15 pm-4:00 pm | Cost Per Semester |
| 45 minute group lesson | $260 per semester ( paid in 4 monthly payments of $65) |
Lesson tuition is divided into four monthly payments beginning September 1st and ending with the last semester payment on December 1st. Payments can be paid for online at crownmusicconservatory.com. Please make checks payable to Crown Music Conservatory. Invoices are sent out on the 25th of each month and payments are due the 1st of each month. There is an extended grace period for emergency circumstances until the 5th of each month at 5:00 pm. All payments not received by that time will be marked late and receive a $20.00 late fee. The late fee as well as monthly payment must be by the following day or lessons will be suspended until paid in full. Students who choose not to pay the late fee will also have lessons suspended. Tuition is not refunded for missed or cancelled lessons.